Tiny Tools
Tools For Small Part Machining Tools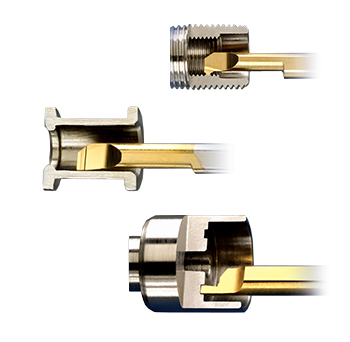 Solid carbide small part machining tools for working in small bores (from diameter 2.1 mm). These tools are made for small part machining in the high tech, medical & small components industry.
Small part machining tools can perform the following applications -
Turning
Profiling
Profiling and Boring
Threading
Thread Relief
Chamfering
Grooving
Full Radius Grooving
Facing
Full Radius Facing
Back Turning
Profiling
Chamfering and Profiling
Deep Face Grooving
All tools include through coolant enabling the cooling fluid to reach efficiently the cutting edge, for easy chip removal and smooth cutting operation.
The Tiny Tools are available - BXC (
P30-P50, K25-K40)
- PVD TiN coated grade for low cutting speed. Works well with a wide range of stainless steels.
BMK (K10-K20)
- Sub-micron grade with advanced PVD triple coating. Extremely high heat resistant and smooth cutting operation , for high performance, and normal machining conditions. General purpose for all materials.
K20 (K10-K30)
- Uncoated Carbide grade for non ferrous metals, aluminium and cast iron.
Several Kinds of toolholders are available - standard SIM holders and those specificaly designed for Swiss machines. Also are available Square shank holders for internal machining with sliding head clamping method for Swiss type lathe machines.
Kits are also available.
Video
DOWNLOAD CATALOUGE